School Emblem
---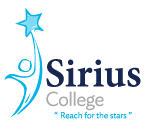 The 'Sirius' is the brightest star in the night sky and has been used as the symbol of illumination and light in many cultures throughout history. The name 'Sirius' directly connects with our college's educational vision of raising our students as stars by illuminating the hearts and minds of all.
The blue star with white lines in our logo (representing the "Sirius" star which looks blue & white at night) symbolises our school's educational philosophy is excellence in academics and values education, resulting in a brighter future.
The character reaching the blue star in the logo appears as our students who keep their goals as high as the most shining star and are dedicated and determined to achieve their future objectives for a successful career. And the dark navy blue represents the night sky.
At Sirius College, we are dedicated to nurturing the new generation of tomorrow. Our motto, "Reach for the stars", emphasises our ultimate goal: educating, mentoring and motivating our students to reach their future dreams.